Frontier Training Workshop (February 2023)
---
Frontier Training Workshop 
Virtual via Zoom
February 15-17, 2023
1:00  PM – 5:00 PM (ET)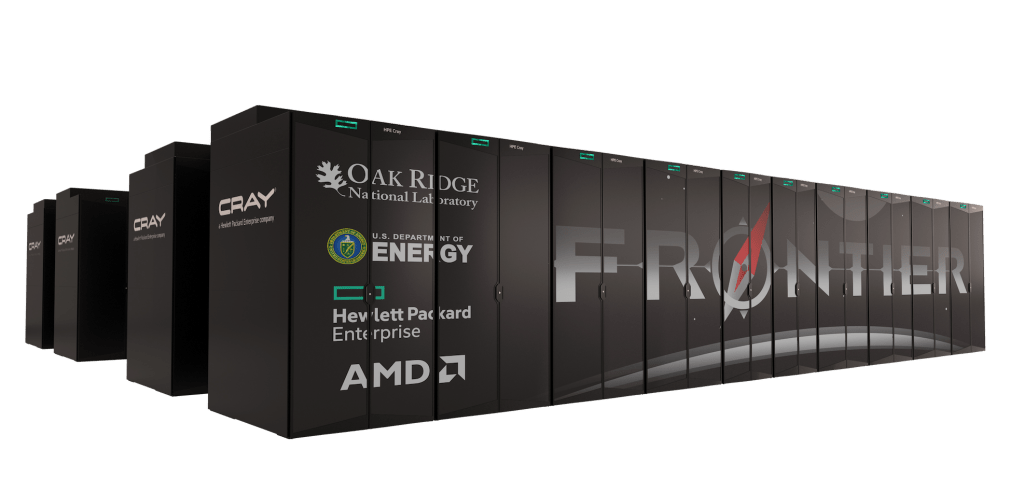 ---
The Oak Ridge Leadership Computing Facility (OLCF) will host a virtual Frontier Training Workshop February 15-17, 2023. This event is meant to help new Frontier users (or those intending to use Frontier) learn how to run on the system. The workshop will feature presentations and demonstrations from vendors and OLCF staff.
If you are new to OLCF or want to do additional research, please see our Preparing for Frontier series. You will find helpful slides, talks, and hands-on exercises that you can do on Summit or Perlmutter linked there.
---
Who Should Attend?
The target audience for this workshop is OLCF users who have recently obtained access to Frontier or who intend to run on Frontier in the future.
---
During the Workshop
The presentations for this workshop are meant to deliver relevant information about the system (hardware, job launcher, programming methods, etc.), while the hands-on session is intended to help participants learn how to run jobs on the system. OLCF staff and our vendor partners will be available for questions during and after their sessions.
Agenda and Presentations 
---
Wednesday, February 15
Time (EST)
Topic
Speaker
Slide,Videos
1:00 – 1:15 PM
 Welcome Address
 Ashley Barker, Section Head, Operations,
National Center for Computational Sciences, ORNL
 slides, video
1:15 – 1:45 PM
 Frontier Architecture Overview
 Joe Glenski, Sr. Distinguished Technologist, HPE
 pending
1:45 – 2:00 PM
 AMD MI250X Overview
 Nick Malaya, Principal Member of Technical Staff, Exascale Application Performance, AMD
 slides, video
2:00 – 2:15 PM
 AMD Optimized 3rd Gen. EPYC CPU
 Nick Malaya, Principal Member of Technical Staff, Exascale Application Performance, AMD
 slides, video
2:15 – 2:45 PM
 Frontier Programming Environment
 Wael Elwasif, Computer Scientist, ORNL
 slides, video
2:45 – 3:15 PM
 Using Frontier's Programming Environment
 Matt Belhorn, HPC Engineer, ORNL
 slides, video
3:15 – 3:30 PM
 Break
3:30 – 4:00 PM
 Storage Areas & Data Transfers
 Suzanne Parete-Koon, HPC Engineer, ORNL
 slides, video
4:00 – 4:30 PM
 Slurm on Frontier
  Tom Papatheodore, HPC Engineer, ORNL
 slides, video
4:30 – 5:00 PM
 Job Submission Examples
 Tom Papatheodore, HPC Engineer, ORNL
 slides, video
---
Thursday, February 16
Time (EST)
Topic
Speaker
Slides,Video
1:00 – 1:15 PM
 Welcome Back
 Suzanne Parete-Koon, HPC Engineer, ORNL
 slides
1:15 – 1:45 PM
 GPU Programming Models
 Subil Abraham, HPC Engineer, ORNL
 slides ,video
1:45 – 2:15 PM
 HPE Cray MPI
 Tim Mattox, HPC Performance Engineer, HPE
 pending
2:15 – 2:45 PM
 Python on Frontier
 Michael Sandoval, HPC Engineer, ORNL
 slides, video
2:45 – 3:15 PM
 AI on Frontier
 Junqi Yin, Computational Scientist, ORNL
 slides, video
3:15 – 3:30 PM
 Break
3:30 – 3:45 PM
 NVMe Usage
 Chris Zimmer,  Group Leader, Technology Integration, ORNL
 slides, video
3:45 – 4:15 PM
 Node Performance
 Tom Papatheodore, HPC Engineer, ORNL
 slides , video
4:15 – 4:45 PM
 Orion Lustre

and B

est Practices
 Jesse Hanley, Senior HPC Linux Systems Engineer, ORNL
 slides, video
---
Friday, February 17
| Time (EST) | Topic | Speaker | Slides,Video |
| --- | --- | --- | --- |
| 1:00 – 1:15 PM |  Welcome Back |  Suzanne Parete-Koon, HPC Engineer, ORNL |  slides |
| 1:15 – 2:00 PM |  Application Profiling |  Trey White, Master Engineer, HPE |  pending |
| 2:00 – 2:45 PM |  GPU Profiling |  Alessandro Fanfarillo, Senior Member of Technical Staff, Exascale Application Performance, AMD |  slides ,  video |
| 2:45 – 3:15 PM |  GPU Debugging |  Mark Stock, HPC Applications Engineer, HPE |  pending |
| 3:15 – 3:30 PM |  Break | | |
| 3:30 – 4:00 PM |  Frontier Tips & Tricks |  Balint Joo, Group Leader, Advanced Computing for Nuclear, Particles, & Astrophysics, ORNL |  slides ,  video |
| 4:00 – 4:30 PM |  Checkpointing Tips |  Scott Atchley, HPC Systems Engineer, Distinguished R&D Staff, ORNL |  slides ,  video |