Using Cisco WebEx at OLCF
Introduction
OLCF makes use of Cisco's WebEx to webcast certain meetings such as workshops and monthly conference calls. This is an introductory guide to using WebEx.
There are two ways to participate in a WebEx meeting: via the webcast, or audio only. We strongly recommend that all participants join via the webcast, since that allows viewing of any presentation material and gives the user the ability to ask questions and use the chat feature. We do realize that sometimes users may not be able to participate via computer but would still like to receive the audio. The audio only option exists for this purpose.
Webcast Participation
This is the option we recommend for all users. This allows full participation in the meeting. To join the meeting via computer, you should first go to https://olcf.webex.com
Accessing and Joining the Meeting
Once on https://olcf.webex.com, you will see a list of meetings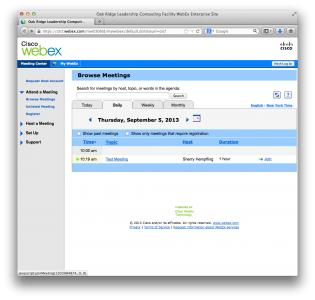 Select the appropriate meeting from the list. In the example above, we want to join the meeting named "Test Meeting". Click either link ('Test Meeting' or 'Join') on the "Test Meeting" line and enter your name, email address, and the meeting password in the boxes on the right.
The meeting password will be provided in the meeting announcement
Please use your first and last names. We like to track participation in our meetings and having first/last names helps us do that
Once you do that, you will be placed in the meeting. You'll next be prompted for how you'd like to receive the meeting's audio stream.
Meeting Audio Options
Once you join a meeting, you'll be presented with a dialog box that allows you to choose how to receive the meeting's audio stream. There are two ways to receive audio: via telephone or via computer audio. You can also simply close the dialog box without making a selection, but then you won't hear any meeting audio which is probably not what you want. You can always change this selection later if you make a mistake or if you decide you want to use a different audio stream.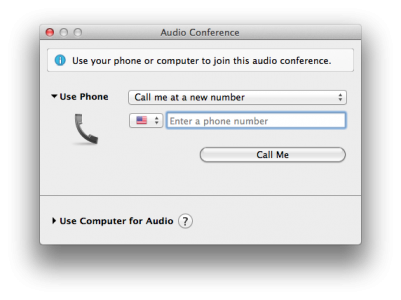 To join via phone, click the drop-down menu and you'll have a few options. Select "I will call in":
This will bring up a box with the dial-in number, the meeting access code, and your attendee ID. (You'll be prompted for the last two items when you call the number.):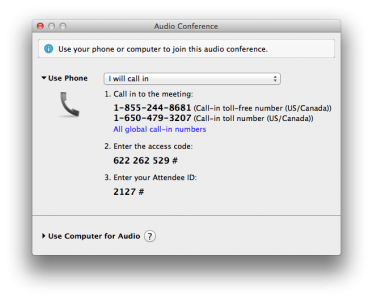 Alternatively, if you click the arrow next to "Use Computer for Audio", you'll see: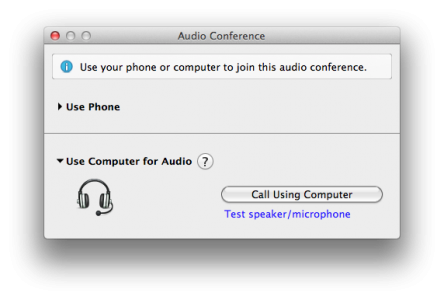 Click on the "Call Using Computer" button, and your computer's speaker/microphone will begin receiving/sending audio to the meeting.
We mute audio from all participants. This prevents background noise from being sent over the meeting's audio channel, but it also means that if you speak into your phone or computer's microphone (whichever you're using), nobody will hear you. We'll discuss how to work around this shortly
If you have dialed in via phone, make sure you are not playing the conference audio through your computer. This can cause audio feedback problems if we un-mute you! (Normally WebEx won't let you do both, but this assumes you enter the proper Attendee ID. If you simply call in and don't enter an Attendee ID, you can end up with computer audio and telephone audio both enabled.)
You should see the presentation. For example: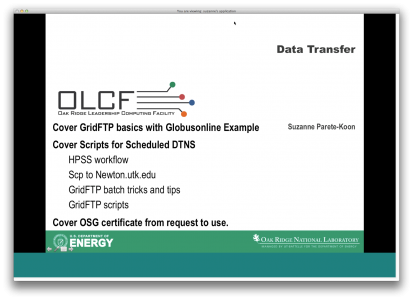 Continue reading for information on how to fully participate in the conference.
Interactive Participation
One of the strengths of WebEx (as opposed to a simple conference call) is the ability to interact with the presenter and other participants. If you move your mouse to the top-center of the presentation, you'll see a menu/status bar:


To chat with other participants (you can chat directly with an individual or you can send a chat to everyone in the conference), select the "Chat" button. This will bring up the chat window: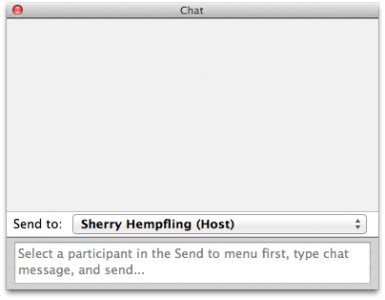 In the chat window, you can post comments and ask questions. You can make these questions private (by selecting a specific name in the Send To box) or public (by selecting Everyone in that box).
If you want to ask a question of the presenter, we do not recommend that you contact the current presenter. Instead, we recommend you either select Everyone or the participant identified as the meeting host (the word Host will show up by their name in the Send To selection box). The presenter may not be viewing the chat window and could miss your question. If you send it to the meeting host, they will make sure it is asked.
To bring up a participant list, select the "Participants" button. This allows you to see everyone that has joined the conference. It also has a very important feature. Remember that we mute audio from all participants. The workaround for this is in the lower left-hand corner of the "Participants" box. To the left of the "Audio" button is button with a graphic of a hand on it. Clicking this button access the "raise hand" feature. This tells the conference host that you have a question and need your audio un-muted. The host will un-mute you and you can then ask your question.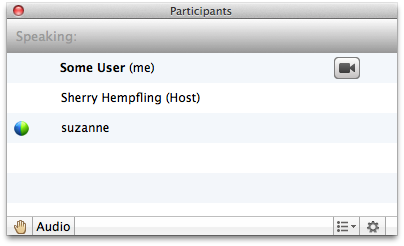 The menu bar also has an option to change how you are receiving meeting audio. If you did not make a selection when you joined the conference or if you want to change your selection, click on the telephone icon. You'll then be allowed to change your selection. WebEx tries to prevent audio feedback on the teleconference, so if you change from computer audio to telephone (or vice-versa), WebEx will close the other audio connection.
Audio-only Participation
Computer-based participation can be a little complex but it does allow full participation in the meeting. If, for some reason, you cannot participate via computer (firewall settings, you're not near a computer, etc.) you can participate by monitoring the audio. Audio-only participation is very simple:
Dial 1-855-244-8681
Enter the meeting ID that was provided in the meeting announcement
Enter # when prompted for a participant ID
With audio-only participation, you will not be able to see any slides or other computer based presentations. Since we mute all participant audio and you have no access to a "raise hand" feature, you also will not be able to ask questions. Still, you'll hear the meeting audio so if it is your only option it can still be beneficial.
Notes
Video Stream Requirements
The playback of UCF (Universal Communications Format) rich media files requires appropriate players. To view this type of rich media files in the meeting, please check whether you have the players installed on your computer by going to https://olcf.webex.com/olcf/systemdiagnosis.php.
Meeting Recording
IMPORTANT NOTICE: This WebEx service includes a feature that allows audio and any documents and other materials exchanged or viewed during the session to be recorded. By joining this session, you automatically consent to such recordings. If you do not consent to the recording, discuss your concerns with the meeting host prior to the start of the recording or do not join the session. Please note that any such recordings may be subject to discovery in the event of litigation.