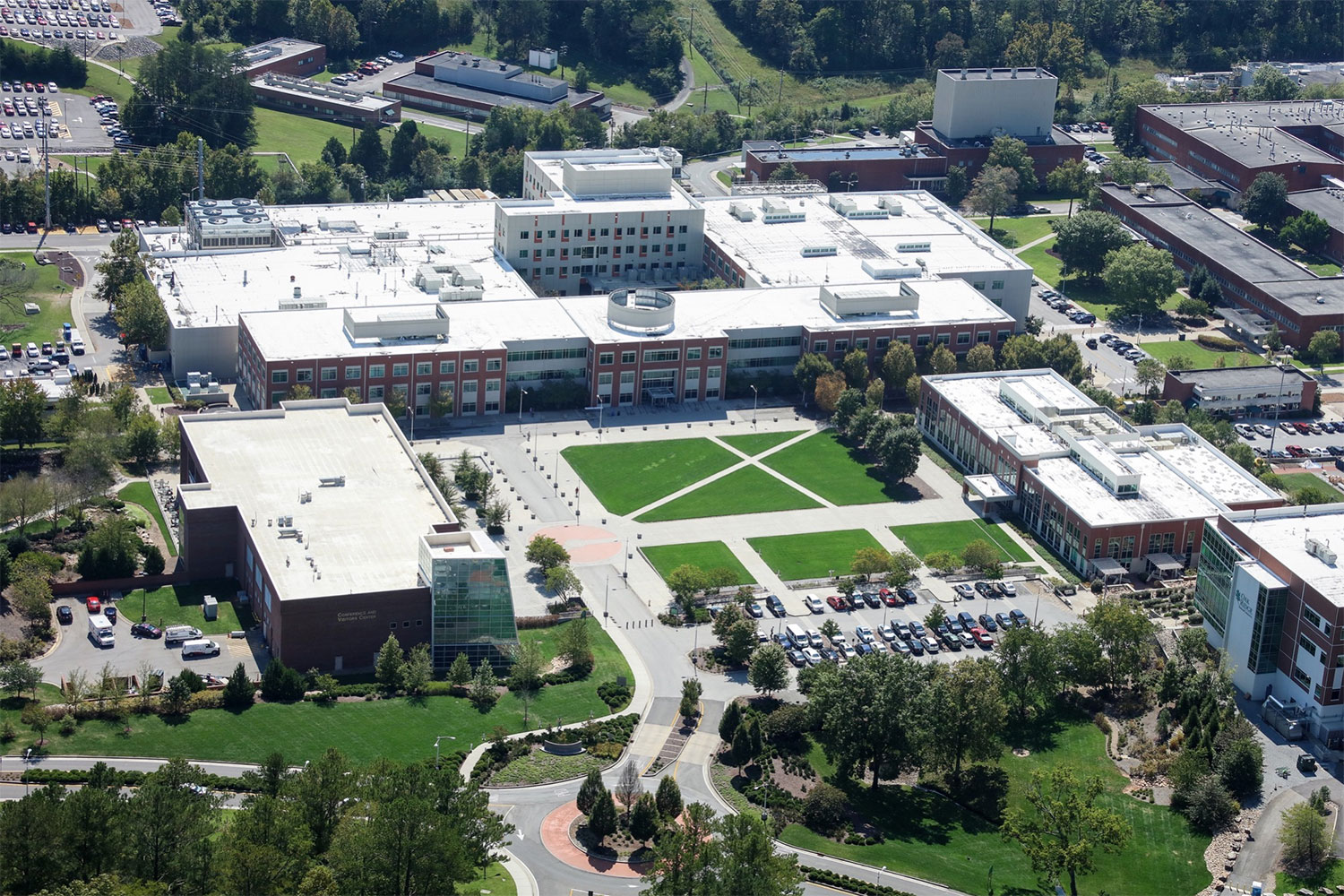 2021 OLCF User Meeting
June 22-24, 2021
11:00 AM – 4:00 PM (ET)
This meeting will be held as a virtual (online-only) event via Zoom. Please register using the form below.  You will be emailed the Zoom coordinates for the meeting upon successful registration.  The last day to register for this event is June 12, 2021.
---
About the Meeting
The Oak Ridge Leadership Computing Facility (OLCF) will hold its annual OLCF User Meeting remotely from June 22-24, 2021. The purpose of the user meeting is to share selected computational science and engineering achievements emerging from the OLCF's user programs, to enable interactions among users, to advance the OLCF's relationships with our user community, and to highlight computational requirements for the future. The 2021 meeting will feature OLCF Facility updates, User-experience talks on Summit and Frontier early hardware, deep dive discussions with OLCF staff, and OLCF executive board election results.
---
Registration
Registration is now closed.
Day 1 (June 22) Agenda
2021 Virtual OLCF User Meeting Agenda
All times reflected below are in the Eastern time zone
The event will be hosted in Zoom and the coordinates will be provided after registration
---
Tuesday, June 22nd Agenda
Time (all times EDT)
Topic
Presenter
11:00 AM
Welcome
Dr. Gina Tourassi, Division Director, National Center for Computational Sciences
11:15 AM – 12:00 PM
Summit Updates
Session Leader:  Thomas Papatheodore, OLCF System Acceptance and User Environment

Speakers:

Don Maxwell, OLCF HPC Scalable System
Ryan Prout, OLCF User Assistance
Suzanne Parete-Koon, OLCF User Assistance
William Renaud, OLCF User Assistance

12:00 PM – 1:00 PM
Table-Top Breakout Discussions Day #1
Session Leader: Chris Fuson, OLCF User AssistanceTable-Top Breakout Topics:

Storage and I/O

Dustin Leverman, OLCF HPC Storage and Archive
Sarp Oral, OLCF Technology Integration

Node Local Storage Use Cases

Chris Zimmer, OLCF Technology Integration

CPU/GPU/Memory Affinity on Summit

Subil Abraham, OLCF User Assistance
Bill Renaud, OLCF User Assistance

Jupyter Notebooks

Ryan Prout, OLCF User Assistance
Jason Kincl, OLCF Platforms

Performance measurement and optimization

Phil Roth, OLCF Algorithms & Performance Analysis

Training Resources

Suzanne Parete-Koon, OLCF User Assistance
Tom Papatheodore, OLCF System Acceptance and User Environment

1:00 PM – 1:30 PM
Break
1:30 PM – 3:00 PM
User-Led Talks (recording)
Session Leader: Jens Glaser, OLCF Advanced Computing for Chemistry and Materials

Speakers:

Roberto Car, Princeton's Ralph W. *31 Dornte Professor in Chemistry and a professor with the Princeton Institute for the Science and Technology of Materials
Amanda Randles, Alfred Winborne and Victoria Stover Mordecai Assistant Professor of Biomedical Sciences at Duke University
Jens Glaser, OLCF Advanced Computing for Chemistry and Materials
Day 2 (June 23) Agenda
2021 Virtual OLCF User Meeting Agenda
All times reflected below are in the Eastern time zone
The event will be hosted in Zoom and the coordinates will be provided after registration
---
Wednesday, June 23rd Agenda
Time
Topic/Title
Speaker
11:00 – 12:00
2020 Survey Outcomes
Session Leader:  Ashley Barker, OLCF OperationsSpeakers:

Ashley Barker, OLCF Operations
Ryan Prout for Jason Kincl, OLCF Platforms

12:00 – 1:00
Table-Top Breakout Discussions Day #2
Session Leader: Chris Fuson, OLCF User AssistanceTable-Top Breakout Topics:

Using the Parallel File System Well

Dustin Leverman, OLCF HPC Storage and Archive
Rick Mohr, OLCF Technology Integration
Sarp Oral, OLCF Technology Integration

HPSS

Brenna Miller, OLCF HPC Storage and Archive
Vicky White, OLCF Technology Integration

Data transfer between OLCF and external sites (Globus)

Jesse Hanley, OLCF HPC Storage and Archive
Ryan Landfield, OLCF User Assistance
Bill Renaud, OLCF User Assistance

ML/DL at Scale

Junqi Yin, OLCF Analytics and AI Methods at Scale
Aristeidis Tsaris, OLCF Analytics and AI Methods at Scale

Visualization and Data Analysis

Benjamin Hernandez, OLCF Analytics and AI Methods at Scale
Woong Shin, OLCF Analytics and AI Methods at Scale

Container Support Requirements Gathering

Subil Abraham, OLCF User Assistance
Matt Davis, OLCF System Acceptance and User Environment
Ryan Prout, OLCF User Assistance

 User Needs in Regards to Supporting the Scientist's Dataflows

Olga Kuchar, Data Lifecycle and Scalable Workflows

1:00 – 1:30
Break
1:30-3:00
User-Led Talks (recording)

Genetic architecture of health and disease across diverse populations – A Million Veteran Program Study using DOE SuperComputing
Harnessing Summit, DLHub, funcX and HAL to enable accelerated and reproducible AI-driven gravitational wave detection

Urbannet: Graph based Critical Infrastructure Analysis Tool

ProtTrans:  Towards Cracking the Language of Life's Code Through Self-Supervised Deep Learning and High Performance Computing

Session Leader: Feiyi Wang, OLCF Analytics and AI Methods at ScaleSpeakers:

Ravi K Madduri, Scientist, Data Science and Learning, Argonne National LaboratorySenior Scientist, University of Chicago Consortium for Advanced Science and Engineering (UChicago CASE)
Eliu Huerta, Head of Translational AI and Advanced Computing, Argonne National Laboratory
Matt Lee, Oak Ridge National Laboratory
Michael Heinzinger, ROSTLAB, Christian Dallago, and Tobias Olenyi, Technical University of Munich
Day 3 (June 24) Agenda
2021 Virtual OLCF User Meeting Agenda
All times reflected below are in the Eastern time zone
The event will be hosted in Zoom and the coordinates will be provided after registration
Thursday, June 24th Agenda
Time
Topic/Title
Speaker
11:00 – 12:00
Center-Led Frontier Updates
Session Leader:  Phil Roth, OLCF Algorithms & Performance Analysis

Speakers:

Balint Joo, Advanced Computing for Nuclear, Particles, & Astrophysics Group
Michael Brim, Intelligent Systems and Facilities
Sarp Oral, OLCF Technology Integration
Phil Roth, OLCF Algorthms & Performance Analysis

12:00 – 1:00
Table-Top Breakout Discussions Day #3
Session Leader: Chris Fuson, OLCF User Assistance

Table-Top Breakout Topics:

A Look Ahead to Frontier

Scott Atchley, OLCF Technology Integration

Interop of Frontier and A21 programming models

Philip Roth, OLCF Algorithms and Performance Analysis
Reuben Budiardja, OLCF Advanced Computing for Nuclear, Particles, and Astrophysics

Writing competitive INCITE/DD proposal

Bronson Messer, OLCF Director of Science
Mark Berrill, Advanced Computing for Life Sciences and Engineering

Quantum at OLCF

Ryan Landfield, OLCF User Assistance

UnifyFS

Mike Brim, Intelligent Systems & Facilities

Slate

Ryan Prout, OLCF User Assistance
Jason Kincl, Platforms

Recruiting, Available Scientific Computing Positions at ORNL

Kate Carter, Talent Acquisition Partner

1:00 – 1:30
Break
1:30-3:00
User-Led Talks on Preparing for Frontier

Challenges and Opportunities: Preparing PIConGPU for Frontier (slides/recording)

E3SM-MMF Experiences with AMD Hardware (slides/recording)

Astrophysics at Exascale: Preparing Cholla for Frontier (slides/recording)

How I learned to be HIP: Experiences in porting a CUDA application (slides/recording)

Session Leader: Reuben Budiardja, Advanced Computing for Nuclear, Particles, & Astrophysics Group

Speakers:

Dr. Sunita Chandrasekaran, Assistant Professor, Department of Computer & Information Sciences, University of Delaware
Dr. Matthew Norman, Group Leader, 

Advanced Computing for Life Science & Engineering, Oak Ridge National Laboratory

Dr. Evan Schneider, Assistant Professor in Dept. of Physics and Astronomy, University of Pittsburgh
Dr. Balint Joo, Group Leader, Advanced Computing for Nuclear, Particles, & Astrophysics, Oak Ridge National Laboratory

3:00-3:30
Wrap-Up

OUG Election Results
Open Floor

Session Leader:  Ashley Barker, Operations

Speakers:

Reuben Budiardja, OLCF Advanced Computing for Nuclear, Particles, & Astrophysics Group
OLCF Users
---